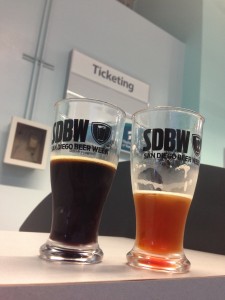 As an outsider to San Diego, I don't always have the wherewithal to marinate myself in the brewery du jour inside the 150ish brewery-thick county. Luckily there are several resources I dive into before waving hand at non-jiggly nuclear boobies and socal's spectacular coastline. There's The West Coaster (which interviewed me in their SDBW 2013 issue), SD Beer Talk Radio Podcast (which I support on Patreon), The Full Pint (click the sidebar —>), and of course, my prized San Diego beer docent: Erin Hill.
Along with Matt Olesh, I'm not sure the good people of San Diego know that Erin Hill is craft beer royalty up here in Orange County. Her penchant for sarcasm, utter lack of bullshit, and switchblade-like middle finger is second to none…but not only that, we have the same taste in beer. When I did a travel-guide to San Diego for Craftbeer.com, she sent me to breweries like Little Miss, where I recall playing darts over various clean smash beers. She sent me to Small Bar for brunch where I sat next to the jukebox and annoyed everyone's earholes for a solid hour over eggs and bloody mary's. She's like my own personal cicerone.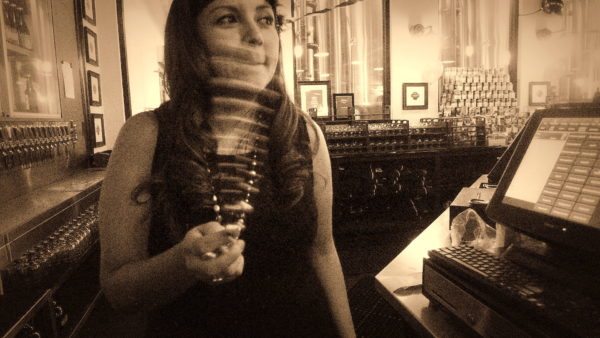 When it comes to SDBW VIP Takeover, I was as shocked as anyone there were only 31 IPAs listed. What the hell can a guy do with only 31 IPAs? So I asked Erin, "what should be my top ten list of beers to try that aren't IPA?" And she responded:
Eppig – Moment of Weakness
Wild Barrel – SD Vice w/pink guava Berliner
Booze Bros. – Brothers Keeper Berry Patch BBA sour ale
Gordon Biersch – Marzen
Pizza Port- Bacon & Eggs
Rock Bottom La Jolla – Oat to Jim: NBA Imperial Oatmeal Stout
North Park – Mocha Massage
Monkey Paw – Back in the ESSA
3 Punk – Brick Top w/Nomad Coffee English Brown
 Alesmith – Hawaiian Speedway
And so, my list is born. Catch John Holzer and I at the Friday VIP takeover! Saturday we'll be recording a session with Jason as well at the big SDBW festival. Stop by and say hi! Matt can't make it. Oh goddamn.
Tickets and stuff here: https://sdbeer.com/sdbw/guild-fest
-Greg @ocbeerblog/@fourbrewersshow